Digital transformation doesn't need to be complex or resource-intensive. A well-designed approach to modernizing your digital strategy can save you time, money, and resources.
This webinar series is designed specifically for credit unions who are faced with the need to transform digitally to thrive and grow their membership. We will hear from various experts about best practices and failures you should avoid.
Sign up today to pre-enroll for the series. This 4-part series is designed to speak to the challenges that credit unions face.
Here's why these webinars will make a difference to your role:
Focused: 30 minutes oriented on a specific topic.
Topical: We didn't come up with the topics. Your peers did.
Current: Our speakers are practitioners and experts with real experience.
Practical: Walk away and get to work based on what you saw.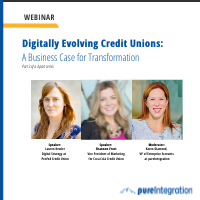 Webinar 3: "A Business Case for Transformation"
Featuring Lauren Kessler, Digital Strategist at PenFed Credit Union, Shannon Frost, VP of Marketing for Coca Cola Credit Union & Karen Diamond, Vice President at pureIntegration
July 20, 2021, at 1 PM ET
Digital transformation seems unattainable, expensive, and risky to many credit unions already faced with more change than they would like. Join us to hear from industry experts who will demystify this market buzzword and provide the business case for why the current pandemic climate may be the best time for making value change to digital operations. These three executive women bring interesting perspectives with real-life stories on transformation dos and don'ts from first-hand experiences.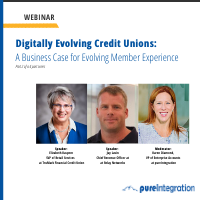 Webinar 2: "A Business Case for Evolving Member Experience"
Featuring Elizabeth Kaspern, SVP at TruMark Financial Credit Union, and Jay Lavin, CRO at Relay Network & Karen Diamond, pureIntegration
April 14, 2021, at 1 PM ET
Today's credit union members expect a consistent, personalized experience—no matter how or where they interact with you: in person, by telephone, through a smartphone application, or on your website. Join us to hear from industry leaders who will break down what it really means to evolve the member experience, how to plan your member's digital journey, and how small changes make a big difference.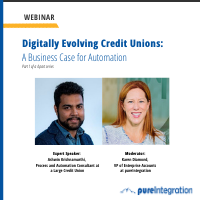 Webinar 1: "A Business Case for Automation"
Featuring Ashwin
Krishnamurthi

, a Process and Automation Expert
March 25, 2021, at 1 PM ET
Credit unions that seek digital solutions to improve overall operating efficiency and member satisfaction will hear how a large credit union successfully implemented process automation to achieve significant business goals. We will discuss the lessons learned, as well as best and worst decisions made along the way.